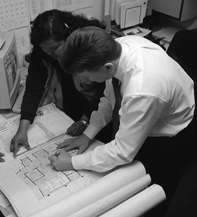 FIRM OVERVIEW
BDCM is a full-service construction management firm that was originally founded in 1985 under the name Baker Bros Construction Company, Inc.  The genesis of this organization was a California general contracting firm engaged in commercial and multifamily residential real estate development. The founders of this organization were architects and general contractors who participated as owner-builder in many of the projects that they undertook to develop.
Over the past 25 years, as demand for construction management grew, Baker Bros evolved into Baker Design & Construction Management, Inc., better known as BDCM. 
Initially, BDCM had its roots in the private sector, acting as an owner's rep for many prominent companies including; The Walt Disney Company, Warner Bros., Universal Studios, CBS, Six Flags, Paramount Pictures, Gianni Versace and others providing a wide range of services including design concepts, design management, cost estimating, construction administration and construction management on projects ranging upward of two hundred million dollars.
Over the years there has been a gradual transition into public works projects, although still actively engaged in private sector work.  Today, BDCM is proud to say that it has participated in the management and contributed to the success of several large scale projects valued well in excess of one billion dollars.
The diversity and experience of our key staff is the cornerstone of our success.  We are credentialed architects, engineers, general and electrical contractors, estimators, and scheduling professionals with vast experience on large port facilities, coliseums and stadiums, convention centers, airport facilities, rail transit systems, courthouses, libraries, hospitals, research laboratories, satellite manufacturing facilities and aerospace. 
Some of the many services we have provided in the past include Project & Program Management, Construction Management Services, Pre-construction Services, Phasing Analysis, Project Scheduling, Budgeting & Cost Tracking, Conceptual and Design Progress Estimating, Constructability Reviews, Value Engineering, Construction Administration and Design & Engineering Management.